Innovation isn't just a buzzword; it's a useful tool that we can use to develop a powerful skill-set in graduates. At the recent SAGEA Graduate Development Conference, I presented on how companies can run their own Graduate Innovation Challenge (GIC) as a developmental initiative in their graduate cohort.
Innovation means taking on a completely new perspective to an existing challenge and coming up with a unique solution. Graduates are well-positioned to do this because they have an excellent combination of insider knowledge with an outsider's perspective, giving them a valuable 360 degree view of the business. In a Graduate Innovation Challenge, graduates compete in teams against one another to come up with the freshest, most impactful solution to a challenge faced by the business.
The benefits to business of running a GIC include: finding an innovation solution to an ongoing problem, building a culture of innovation, fostering healthy competition, and encouraging employee engagement. Graduates benefit from participating in the challenge by gaining skills and knowledge, while getting exposure to different parts of the business and building their professional networks. At the same time, the graduates' entrepreneurial mindset is nurtured, and the challenge also offers them an outlet for their "this is me" creativity.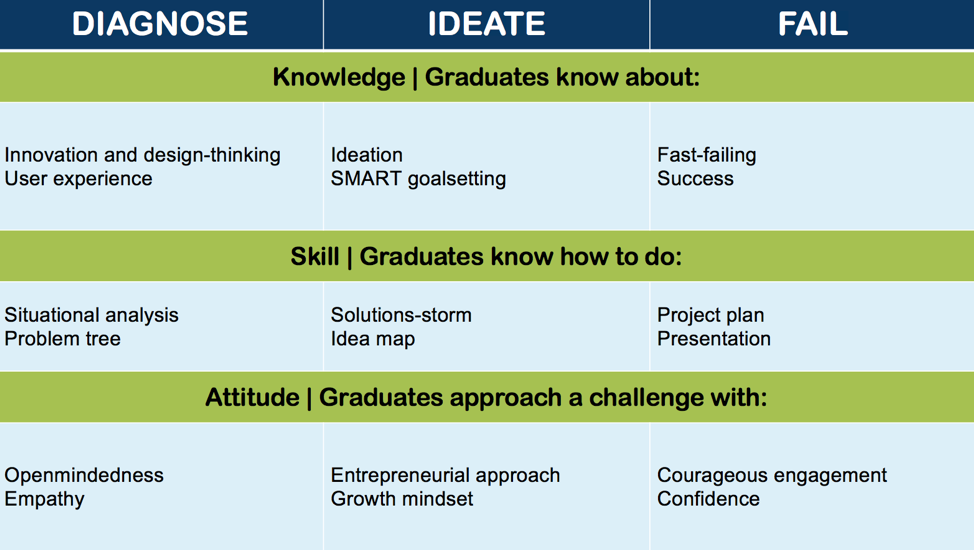 The GIC takes place in three stages: Diagnose, Ideate, and Fail. During each of these phases graduates gain valuable knowledge and skills, and develop productive working attitudes.
Diagnose
During the first diagnosis stage, graduates are taken through the process of distilling the problem to its core, and unpacking the roots of the problem, how the problem impacts business, and the future repercussions of the problem on business. They complete two sessions in this stage, as as well research that informs their problem diagnosis.
Ideate
In the second stage, graduates brainstorm solutions to the problem. They are encouraged to come up with creative, big ideas at first, thinking out of the box to generate and share solutions with the teams. Then, they go through a process of analysing their ideas, first grouping them together thematically, and then establishing the feasibility of each. At the end of this stage, they have completed two sessions and emerge with one solution that they are going to take forward to the final stage.
Fail
The final stage sees graduates developing a project plan, and then going out into business to actually implement elements of their solution. They need to understand the value of failure in this context, and be encouraged to engage wholeheartedly in the implementation of their solution. The final activity of the challenge is to present on their success to a panel of judges drawn from business, who decide on the most innovative solution.
It's important for graduate to reflect on what they've learnt over the course of the challenge for the content to really sink in. At the end of the challenge, the graduate cohort should be empowered with a range of innovation skills and knowledge, and be motivated to approach challenges in their professional lives with courage, confidence, and and can-do mindset!
If you'd like to view the presentation, or chat to us about graduates in your business, please connect with me on [email protected].