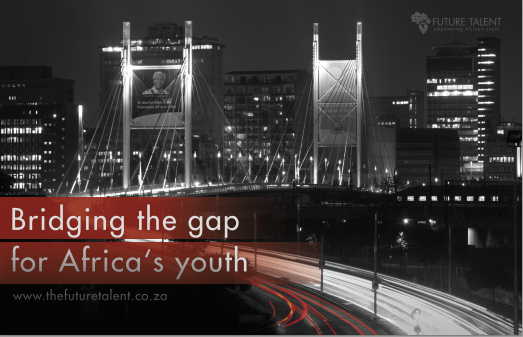 About Future Talent
Future Talent
---
About Us
Future Talent is a professional technology service provider, we deliver practical and sustainable financial and technology solutions.
Focused on people and technology in financial services institutions, our services supply IP retention, succession planning to drive project delivery and sustainability. Future Talent reduces the risk of on-boarding people in today's transformation world, by providing quality and competent consultants.
By bringing transformation to businesses, our Futureneurs are selected for attitude, trained for skill in various technologies, appropriate to client needs.
We at Future Talent, believe in empowering young Africans, to drive transformation that is crucial to the success of businesses.
Mission
A professional technology service provider, driven to empower Africa's youth.
What we are looking for:
Graduates with the following skills and qualities:
Right attitude, aptitude and desire to succeed in the workplace
Passionate about technology
Strong interpersonal and communication skills
Excellent verbal & writing skills
Be willing to work your way up from the bottom
Degree/Disciplines
We recruit graduates from the following disciplines:
Information Technology
Engineering
Mathematics
Statistics
Eligibility
At minimum, a three year university degree
Must be a South African citizen
Must be able to support yourself during 6 weeks full time training
Commit to a minimum 2 (two) years of employment after training is completed and being placed to work
Be geographically flexible 
How to apply
Send your CV, academic transcripts & degree certificate to [email protected]
When to apply
Applications opened all year
Further information
Please visit www.thefuturetalent.co.za
Facebook: Future Talent SA
Twitter: @future­_talentSA
LinkedIn: Future Talent SA