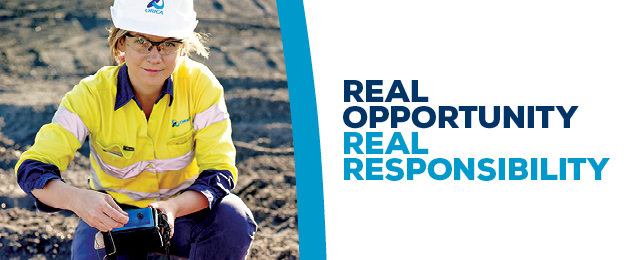 Graduate Stories
Esther Agyyeiwaa Forson
Chemical Engineer
Ghana
I am Esther Agyyeiwaa Forson. I grew up in Kumasi the second largest city in Ghana. In order to satisfy my curiosity about how things work, I did my Bachelor's degree in Chemical Engineering from Kwame Nkrumah University of Science and Technology.  
My career objective has always been to take up leadership responsibilities in the field of engineering and to contribute technically to the success of the big industry. Realising that Orica gives real opportunity for graduates to develop their career by exposing them to all levels of the organisation in order to build leaders from within; I joined the Orica Graduate Program.
In my first year of the program, I was assigned to the Product and Process Implementation and Support team. The PPIS team is responsible for the technology management of bulk and packaged explosive products. Whiles with the PPIS team, I engaged in two projects. One of the projects was to determine the effects of Ammonium Nitrate based Emulsions on mine waters with specific reference to nitrate and total ammonia nitrogen leaching. The other project was to conduct a feasibility study on using density as a measure of ammonium nitrate content in oxidiser solution (produced in respective Orica emulsion manufacturing plants) versus the standard fudge point method. Though the projects were challenging, I was able to succeed through effective collaboration with my team and the client. I was also given the opportunity to manage the plant when the site lead, who was also my mentor, was on annual leave.
One of my greatest memories is the Graduate Development Workshop organised in South Africa with the focus on preparing us for operating in a global environment. This gave me the opportunity to travel to the country I have always wanted to explore. Orica give me the opportunity to experience a real 'diversity in unity' by meeting different people and networking with the Senior Leadership teams and fellow graduates. It feels great to be a member of the Orica graduate program but it feels awesome to be a pioneer as this is the first of its kind in Africa.
Peter Firus
Mechanical Engineer
Australia
The annual Orica Graduate Development Workshops are one of the biggest highlights in the graduate calendar and this year's event did not disappoint. Across the four days we developed new skills and built networks and friendships across the full graduate cohort – both domestically and across Asia since this year we were lucky enough to be joined by our Year 3 Graduate counterparts from Singapore, China and the Phillipines, experiencing firsthand the international diversity within Orica.
As a first year grad, the Development Workshops began for me with a half day site visit to Deer Park. There we had the site graduates explained their roles, the manufacturing process involved in emulsion production and then we all donned hi-vis and toured the site. It was a very informative visit.  Next up was a visit to head office on Nicholson Street to play library-services-bingo and delve into a vast video clip collection in an engaging mining 101 session. The day was capped off with a Mexican night at Touché Hombre
On Tuesday we joined the rest of the graduates off site for the more formal workshop sessions. The day kicked off with a frank and optimistic presentation by Ron Douglas – Global Head of Projects & Technology, on Orica's business and strategy in a challenging market, followed by an interactive session with Engineers Without Boarders n which we unleased our creativity in a design challenge. After a lunch break we broke into our respective year levels for the next 1.5 days for our workshop on leadership and critical self awareness. This left us well primed for the graduate networking evening at the Terrace Bar where we were able to mingle and chat with some of Orica's senior leaders.
On the final night, all three years reconvened at Melbourne Central for the annual bowling night where much fun was had, with the first year team demolishing its more seasoned opponents. The group progressed in high spirits to K Bar for an enthusiastic late night karaoke session.
On the final day the grads got out into the sunshine in Carlton Gardens for a team building/volunteering event with The Bike Factory. After completing a series of team challenges we were able to put together five little bicycles for donation to disadvantaged children. It was incredibly heartwarming to see the smiles on the little kids' faces as they received their bikes. We then headed back to head office for lunch and farewells.
As Orica grads we are very fortunate to have these events run and have such support for our individual development – I think it reflects tremendously well on Orica's commitment to being a top tier business that it invests so heavily in its future leadership.
Leojenen Etulle
Mining Engineer
Philippines
It was last week of February when I received an email informing me of my third year Graduate conference to be held in Melbourne Australia. I was really excited since it would be my first time to visit Australia. But what excites me the most was that I would get to see the other Year 3 Asian grads again while meeting the Australian Grads for the first time.
We visited Deer Park and had a tour around the plant on our first day, which was really exciting as I remember reading about the site in an Orica publication some time ago, never thinking I would be visiting it one day.
We participated in many activities during the second and third day of the conference. What I remembered the most was when we got the chance to present our 1-minute Orica stories. Although I had just met my Australian co-grads that morning, hearing their one minute stories was very motivating and I felt like I know them instantly, hearing about similar challenges and work we do in the Philippines. The stories gave all the grads a chance to show what truly mattered to them and how they work. It was really exciting to be in a room filled with people of different culture and working background but connected through our experiences.
We also get to meet the global leaders at the networking night. It was a night filled with fun and knowledge. These global leaders serve as inspiration for the younger generation, inspiring us to give our best for Orica.
On our fourth day, we worked in teams and built bicycles for the disadvantaged children. This would be my second time to be involved in a volunteering work, first was that in Indonesia where we visited an orphanage in Jakarta during my second year Grad Conference. It felt so good to be able to help put a smile on children's faces.
I appreciate that Orica allows us to get involved in this type of work.
Jarrad Bird
Orica Graduate Sustainability Committee
Co-Chair
Now in its 5th year, Orica's Graduate Sustainability Committee (GSC) has continued to provide a platform for graduates to become involved in sustainability, environmental and community engagement initiatives.
Earlier this year, the GSC successfully secured a budget of $15,000 after putting forward a proposal for funding. The strong support the GSC receives from the Continuous Manufacturing function, has allowed the GSC to build on the successes of previous year.
The GSC is very proud of its continued growth and the major achievements. We played a pivotal role in Orica employees participating in the Ride to Conquer Cancer across the east coast of Australia and New Zealand. Over 50 riders completed the two day 200km journey, raising over $120,000 in the process for several cancer charities. The GSC helped fund raise by organising BBQs, wine tasting events, raffles and movie nights.
As part of the ANZ graduate workshop held in Melbourne, graduates spent the morning volunteering with
OzHarvest – a not for profit organisation that rescues food destined for landfill from supermarkets and food outlets, and then turns it into healthy, restaurant quality meals. Under the guidance of professional chefs, over 400 meals were prepared for distribution that night to some of Melbourne's less fortunate residents.
The GSC is very excited to be entering 2015 having secured a corporate partnership with Engineers Without Borders (EWB) through Orica's Community Partnerships Program. The partnership with EWB is one of 23 initiatives that will benefit many communities in which we operate. The partnership will focus on Aboriginal and
Torres Strait Islander programs, Education, and Networking and Collaboration.
With a presence in LATAM, North America and Africa, the GSC has been engaging grads across continents to support blood drives, tree planting days and conservation volunteering. One of the major success stories of our international collaboration is the annual Food Drive, which this year resulted in over 11 tonnes being collected.
Once again, LATAM lead the way with this initiative by collecting the largest portion of this.
Moving forward the GSC has some exciting plans to connect high school students, engaging with Indigenous communities via EWB and strengthening the connections between graduates in Asia, Africa, LATAM and North America.