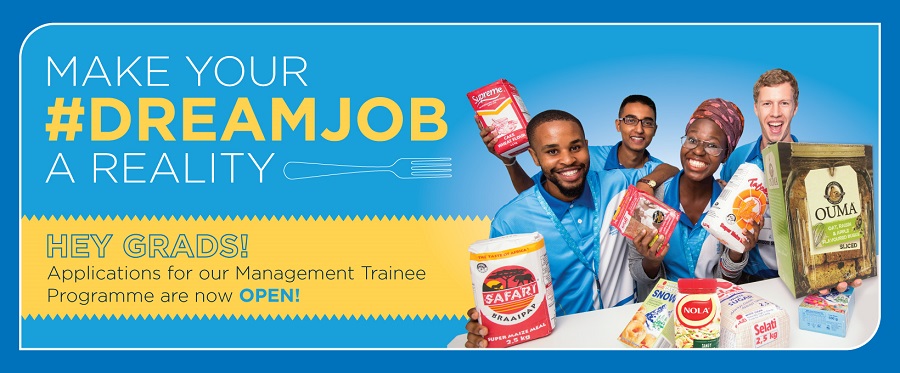 Working for RCL FOODS
RCL FOODS
---

CAREER OPPORTUNITIES
RCL FOODS is a progressive and constantly growing company, and we welcome passionate and ambitious individuals to apply to join our team. We celebrate diversity and individualism while actively encouraging personal and career growth through a broad range of training and reward programmes.
GRADUATES & INTERNSHIPS
The RCL FOODS Management Trainee Programme forms an important part of RCL FOODS talent acquisition and development strategies. The Group believes in developing business leaders for tomorrow and the management trainee programme is a critical part of helping to achieve this aim.
The graduates are taken through a development programme that provides an introduction to the working world, solid practical working experience and a strong foundation for further development. They gain practical experience by working on projects and in jobs that give them responsibility and ownership for real business issues. In addition to great on the job experience, the programme supports the graduates through a combination of internal and external training courses, mentors and a structured developmental plan.
This combination of on-the-job experience supported by great development plans, not only allows graduates to gain the confidence and skills they need to become managers in their functions, but also allows them to build skills, competencies and experience that positions them well for a future career in their chosen field.
CHARACTERISTICS WE LOOK FOR
Graduates that are team players, proactive self-starters with leadership capacity and a results orientation are the kind of candidates that RCL FOODS is looking for, as these qualities will best contribute to the organisation and position the graduate to succeed. Over and above, the following knowledge and skills are necessary:
Good academic results
Great communication skills
Strong analytical skills
Computer literacy
Graduates in their final year of study with little (less than 1 year) or no working experience
OUR RECRUITMENT PROCESS
The comprehensive recruitment process includes interviews, psychometric assessments and a presentation to the respective company's executive management team. Successful applicants can expect to progress through the following:
Online Application
Screening and shortlisting
Telephonic screening interview with HR
Final interviews, psychometric assessments, reference and background checks
Offers made
If you are interested in growing with us, take a look at the positions that are currently available here